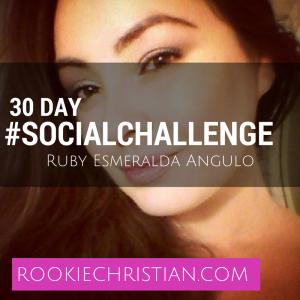 #socialchallenge day 9: Name 10 people who influence you
1. Me when I was 3.
I know it may seem weird for me to be influenced by my former 3 year old self but it reminds me of my true Identity.
I have a picture of my 3 year old self above my desk where I am totally laughing and smiling up at the camera. Total JOY can be seen in my eyes and my mannerism in which I sit, portrays a confidence and zeal for life that I never want to forget. I am encouraged by my 3 year old self to keep going, to keep seeking adventure, and risk at the promise of experiencing more.
2. Mother Teresa 
I once read a quote that I will never forget by Mother Teresa.
It reads: "Promote what you Love instead of bashing what you hate."
She then went on to state, that she would never attend an Anti-War protest but she would most definitely attend a Peace walk.
I take that to heart when I talk about my love for God.
3. Joel Osteen
They call him the smiling preacher and I swear I can see his smile as I read his books. I thank God for the anointing upon Joel Osteen's life and his courage to stand in front of people and share as only he could share.
4. Creflo Dollar
He is my spiritual father. His teachings have taken my faith to a whole nother level. I am thankful for his courage and pursuit in teaching the gospel the way no other can teach it.
5. Worship Leaders
They teach me the importance of worshipping the Lord. I love to see how they each give their all as they sing their heart out to God. I worship more because of them and even though I am not Mariah Carey, I worship like I am lol.
6. Bob Goff
If you have not heard of Bob Goff then you are in for a treat. He is an amazing individual who literally DOES instead of says, the Love of Jesus. His book "Love Does" is one I recommend everyone to read.
7. Individuals who break molds and barriers
I meet awesome people all the time but none move me more like the individuals who are willing to risk ridicule for the sake of changing someone's world. Specifically Pastors/Ministry Leaders who don't look like your typical 'Christians'. They don't do normal, they pursue the beauty of God in its different shapes and forms.
8. The Unnamed Angels of the world
So many heroes live among us. So many people who personify and magnify the Love of God. I see them all the time and I am always in awe of their magnificent heart.
9. Authors
I am a writer and throughout my childhood I was rescued from my circumstances by the words of countless authors. Those worlds they created of far away magical lands kept my hopes and spirit up. I am forever thankful for their gift.
10. Last but not least, my Momma.
She is the strongest person I know. I thank her for her courage. I thank her for her love.