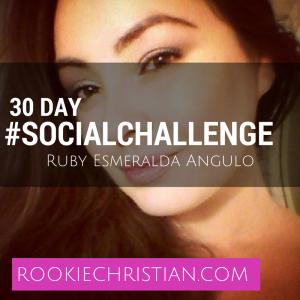 #SocialChallenge Day 18: The Most Difficult Thing I Have Had To Forgive
Oh this one is fresh as I am going through a divorce.
I had to forgive my ex husband.
It was painful but God asked me to and so I did.
It's been a process but I am thankful to God that He has sustained me and elevated me to a higher place.
His promises are true… I am TOTAL proof of it.
Forgive because of Jesus.
Don't remain in the bondage.
There are great things that are meant to manifest in your life but with un forgiveness in our hearts, they cannot come to pass.
Forgive, not because they deserve it, but because YOU deserve freedom.
<3 Ruby E. Angulo